Now in its fourth year, the
Employee Experience Awards
believes that by providing great experiences, you tap into your talents' passion for work. This will in turn create a more engaged workforce that is motivated, productive and energised to upskill and deliver a positive customer experience.
Designing a robust employee experience and recognising the best is crucial for industry benchmarking. This pan-Asia awards show is aligned to fill market needs and highlight three key elements of a holistic EX approach: leadership , learning and engagement .
Aimed at celebrating Asia's talented HR professionals, this is the region's only peer-reviewed HR awards focused on bringing to light the various pillars of the employee experience. Come join us on this journey with our esteemed panel of honorary judges who are on a quest to crown the best-in-class.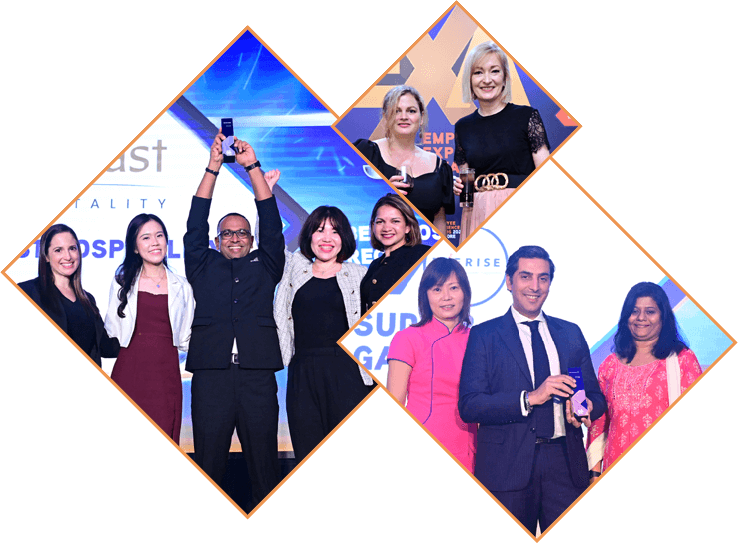 Be strategic and enter the awards show today:
Strengthen your purpose, culture and brand
Be confident in your organisation's agility and ability to adapt to different environments with an engaged and motivated workforce.
Beef up your market competitiveness
Don't fall behind your fellow peers who are transforming their employee experience to successfully attract talent and retain top talent.
Benchmark your organisation's EX prowess
Learn from the best HR teams that the region has to offer and benchmark your practices to continue growing and improving your processes.
Bask in all the glory you deserve
Don't be afraid to stand up for your brand! Be proud ambassadors who champion the way forward and raise the excellence bar for HR.
Network with key leaders and learn from the best in the industry
Be it the esteemed judges or your industry peers, this platform allows you to learn from the winning team's experiences through Winning Secrets.